---
What is White Hat SEO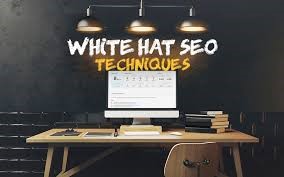 If your intention is to make a long term investment in your website the best way is to optimize white hat SEO practice.
What is this so called white hat SEO..???
The simple definition for white hat SEO is using various techniques that ensure your site performs well in search engines without being cheated by black hats. Earlier many people used black hat SEO which was the practise used to increase a site or page ranking within a search engine violating the search engines terms of services.
Opposed to the above mentioned black hat SEO, White hat SEO uses techniques, strategies and tactics which focusses on human audience opposed to search engines following the relevant search engines rules and policies. For an example if your website is setup for a search engine and you consider using white hat SEO it will focus on setting up your website according to its relevancy and organic ranking.
So now it is very easy for you to distinguish new white hat SEO practise from earlier used Bl
ack hat SEO. It is the opposite side of black hats boys same as it was used in western movies to distinguish bad boys who was wearing black hats from good boys wearing white hats. So now you do have the understanding of not being cheated by simply using black hat SEO practices to popularize your website violating search engines terms and conditions.
Is it important to go for the white hat SEO Practices?
Of course………….
Because it reduces your risk of getting banned by popular, commonly used search engines like Google and Yahoo. Imaging the consequences you have to face by getting banned by Google, Yahoo or any other search engine which are commonly visited search engine in the world. If you once get banned these search engines don't give any guarantee to re list you again. So think of negative consequences you have to bear if your business goes on parallel to your website performance. The drop in your website traffic and the drastic drop in your business will sure to stress you like nothing.
So count all the benefits you get before implementing white hat SEO practise to your website
White hat SEO uses organic techniques and it demands quality in a site in order to ensure it performs well for search by million visitors. Using this practice gives value to your audience. Being the owner of a web site that is well built, performs well and is capable of being used across many platforms such as desktop, tablet and mobile is the best way to catch the world through the means of internet. This practice producers contents that are actionable and it contains fresh ideas, It has a good mix of multimedia content not just long age writings and It Utilizers social media so your brand is recognizable across all platforms and the content can be distributed which has becoming more important now more than ever.
White hat SEO Techniques
There are number of methods and techniques used by White hat SEO. Here we talk about few important factors it does follow.
Following Keyword research to identify the content demand.
A quick keyword research may help you a lot in understanding your needs of the audience. It will show you what are the mostly searched topics and also it will direct you to the language audience uses which you have not even think of before. The main reason for this is you use technical terms which are relevant to your industry but without having an understanding of those technical terms they do the searching's using their own build-up words which are completely different from what you expect. So following this 1st technique may help you to figure out a long tail keyword to create contents which your audience can understand.
Constructing contents in a language which you audience can understand is the 1st technique White hat SEO follow. So it is simple as having a casual conversation with your audience in a simple language they can interpret.
It includes target key word in all the places where possible such as in URL, Alt images, title tags and use the other relevant similar keywords in the content body. For example if you are writing a report on Animal Welfare include more related terms such as Animal welfare originations and Animal Welfare NGO's more often.
Formulate SEO contents which answers the search motive
Thinking and feeling as you are the searcher will make your work ease. Understand what the searchers actually looking for? For what king of problems they are seeking solutions and for what kinds they seek for advice? Does your audience looking forward to purchase something or to get an advice. Having answers to these questions may take you to the best place. In SEO's. Mostly searching motives falls in to 3 categories:
To learn about something
To buy something or
To get advice or a solution
When formulating contents white hat identify the user's intentions and make clear contents for ease understanding of the audience. For example if the prospecting audience search for a purchase it creates the content relevant to that.
Allow Google or other search engines to know the content of the article through obtaining votes of confidence
The Search engine is required to know about the content to place the article in the correct SERP. So what white hat does is it reaches influences for them to know regarding the content pointing out its added values to the contents.